Overview of the past days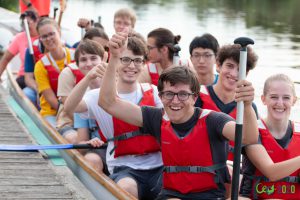 On Tuesday solving complicated tasks in a five-hour contest, the participants got really exhausted. They all tried to do their best. Later, they had a tasteful lunch and got the results of the first competition day. In the need of some relaxation, everybody was happy to go on an excursion to visit the Boating Lake. They enjoyed the view from the lookout-tower and got refreshed from the orienteering game. Cycling around the lake, dragon boating and taking part in exciting sport programs were so much fun. There was an interesting show during which Thúry Vitézlő Oskola represented Hungarian traditions (eg. archery, throwing knives). After this tiring day, it was a good feeling to have delicious meals at the grill party, eg. chicken breast, pork collar, sausages, and different vegetables.
After Wednesday's breakfast the participants travelled to Zalaegerszeg to visit ZalaZone which is a unique test track, and listened to entertaining presentations. In the afternoon, they had a trip to Keszthely, where they took part in exciting programs, such as visiting Festetics Palace and cruising on Lake Balaton.
We hope everybody had a nice time before the second competition day!